Rock and Soil Anchors by Geotech Services, Inc.
Rock and soil anchors can be either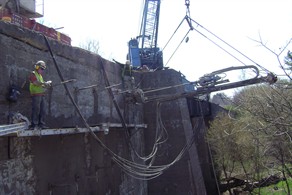 steel tendons drilled and grouted
into place, or helical anchors screwed into the soil formation.

Benefits:
Tieback Anchors are used to support retaining walls for mass excavations and earth retention.
They are able to support a wall without interfering with foundation construction.
Tiebacks can be used for temporary excavation support or permanent retaining structures.